FuzeHub is offering grants of up to $10,000 each to support projects in which a New York State manufacturer:
Participates in one of FuzeHub's "Manufacturing Reimagined" workshops or webinars
Receives technical assistance from a NYSTAR Innovation Asset
Identifies a project that will help the manufacturer manage challenges created by COVID-19, emerge from the crisis more resilient and adaptable, and prepare for future emergencies.
NYSTAR Innovation Assets are 70+ university-based or not-for-profit centers supported by Empire State Development's Division of Science, Technology & Innovation (NYSTAR). They provide a broad range of capabilities and expertise in manufacturing competitiveness and emerging technologies. A list of potential partners is available by working with FuzeHub staff to help manufacturers identify the best-fit resource for their specific needs.
To get connected with a resource,  submit a request below.

FuzeHub connects New York's small and mid-sized manufacturing companies to the resources, programs and expertise they need for technology commercialization, innovation and business growth. We help companies navigate New York's robust network of industry experts at Manufacturing Extension Partners (MEP) centers, universities, economic development organizations and other providers. FuzeHub is the statewide New York MEP center, supported by Empire State Development's Division of Science, Technology & Innovation (NYSTAR).
At the end of each Manufacturing Reimagined Webinar, instructions are provided to request a report. You will have to have either attended the live webinar or viewed the recording prior to requesting the report.
Additional Requirements
See additional requirements section below.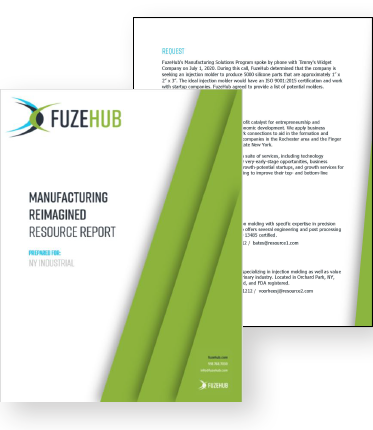 Additional Requirements:
Applicants must propose a well-defined project that is ready to undertake immediately and can be completed within 12 months. (FuzeHub staff are available for one-on-one consultation to help define projects and facilitate partnerships between manufacturers and appropriate NYSTAR Innovation Assets.)
Grant funds will only be paid to the NYSTAR Innovation Asset providing the technical assistance.
Grants require a 1:5 cash cost share from the benefiting manufacturer. That is, applicants requesting the maximum $10,000 grant must show a total project budget of at least $12,000, in which the manufacturer will pay at least $2,000 toward the cost of the project.
Proposed budgets must reflect all FuzeHub grant funds being dedicated to the fees charged by the NYSTAR Innovation Asset, but the company cost share may be dedicated to other items related to the project.
Benefiting manufacturers must commit to completing post-project surveys reporting economic impact to the company as a result of the technical assistance.
Contact us and we'll connect you to the right resources to assist you.