Helping small manufacturers grow, create jobs, save costs and become more competitive.
The New York Manufacturing Extension Partnership  (NY MEP), a network of organizations that provide growth and innovation services to small and mid-sized manufacturers in every corner of the state, helps hundreds of companies a year create and retain jobs, increase profits, and save time and money.

The not-for-profit organizations that comprise the NY MEP assist companies all over New York State, providing affordable services in the areas of technology acceleration, product development and prototyping, process improvements, innovation strategies, quality control, manufacturing scale-up, supply chain assistance, and new market strategies.
NY MEP is supported through a combination of federal and state funding: It is part of the National Institute of Standards and Technology's Hollings Manufacturing Extension Partnership and is administered by Empire State Development's Division of Science, Technology & Innovation (NYSTAR).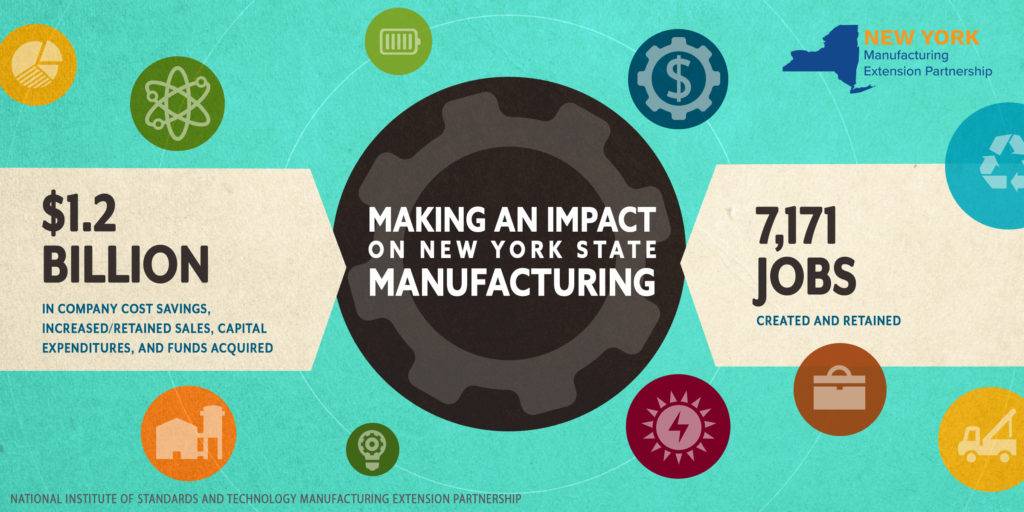 Industry 4.0 - Next Phase of the Industrial Revolution
About the MEP National Network
The MEP National Network™ is a unique public-private partnership that delivers comprehensive, proven solutions to U.S. manufacturers, fueling growth and advancing U.S. manufacturing.
Focused on helping small and medium-sized manufacturers generate business results and thrive in today's technology-driven economy, the MEP National Network comprises the National Institute of Standards and Technology's Manufacturing Extension Partnership (NIST MEP), the 51 MEP Centers located in all 50 states and Puerto Rico, the MEP Advisory Board, MEP Center boards, and the Foundation for Manufacturing Excellence, as well as over 1,400 trusted advisors and experts at approximately 450 MEP service locations, providing any U.S. manufacturer with access to resources they need to succeed.
In 2021, the MEP National Network connected with 34,307 manufacturers, leading to $14.4 billion in sales, $1.5 billion in cost savings, $5.2 billion in new client investments, and helping to create and retain 125,746 U.S. manufacturing jobs.